Nazareth Care has been operating for 140 years in Africa, with its' first Nazareth House dating back to 1882. Running an organisation successfully for over a century requires the ability to foresee and adapt to changing environments. There is a need to be more conscious of industry trends, reposition and understand that Nazareth House is forever evolving into a hybrid organisation that adapts to the needs of the times and the requirements of business in the present while focusing on the demands of the future.
Henco Walker, Chief Executive Officer of Nazareth Care Africa, has a vision of creating living spaces for the elderly to spend their days in an aesthetically pleasing environment that offers both physical and mental stimulation to its' residents, ultimately encouraging active ageing and sustained quality of life.
In this new model, Nazareth House attempts to further deinstitutionalise their homes, moving away from the stereotype of old age homes being places where residents are unengaged and inactive all day with minimal stimulation.
The new dining room routines is a great example of this, residents are required to dish up their breakfasts themselves from a carefully balanced menu that is presented in a buffet style, where they have a choice of what they'd like to eat, how their eggs are done, and what cereal to have. The meals are ultimately the highlight of their day and it's what they most look forward to. Making this experience fully engaging and interactive encourages independence, choice, and stimulation at the same time, enabling all the senses of smell, taste, feel, and sight. The smell of coffee and toast throughout the dining room also helps with appetite, and a sense of community and family is created and forces interaction. This new dining room routine encourages everyone to get out of their chairs and out of their rooms.
The first Nazareth House in the group to implement the changes is Nazareth House Durban. Nestled in the residential suburb of Berea, Nazareth House Durban is set on a large property and offers independent, assisted and frail care accommodation options. Working together with the Durban team, the Nazareth Care Africa team invested in the House, creating a new level of service offering for the group, soon to be rolled out throughout the region. The upgrade focused on the following areas of the House:
"Reading is essential for those who seek to rise above the ordinary – Jim Rohn". The aim of creating a pleasing library room is to encourage our residents to spend some time reading and enjoying the books on offer. Although the collection is still small, it has been selected to bring reading joy to all. The books are classified according to different genres to ensure that the residents find it easy to allocate a book that will suit their reading desires. The library also has a board game area which has become a hit for 4 o clock bridge games and comfortable seating for those seeking a quiet space to relax and get into a good book. Finally, a coffee and tea station was set up so residents can truly enjoy the space and make themselves at home. Residents are self-appointed custodians of these areas and are responsible for the management and upkeep. A book club has been established and soon there will be a book trolley that will be pushed through the home daily for the frail residents.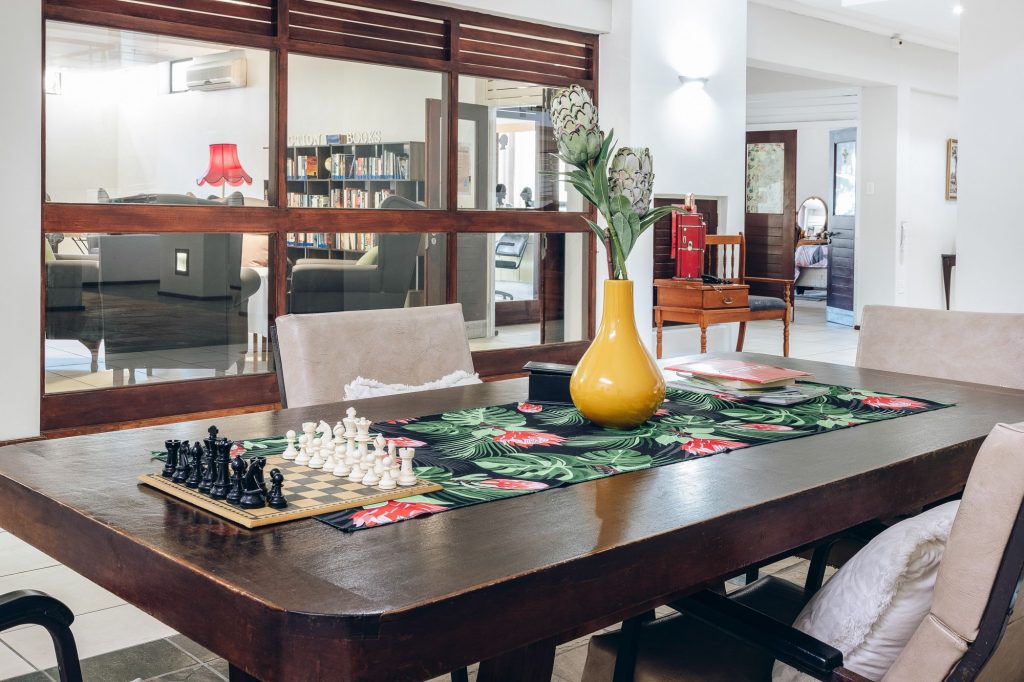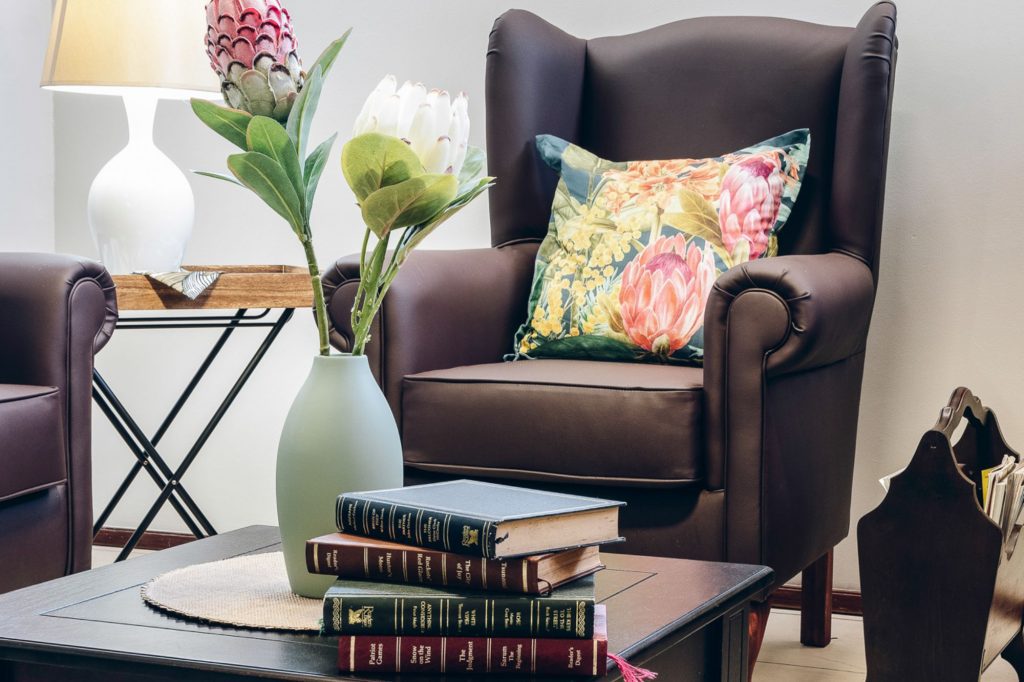 The atrium is the hub of the House, where residents spend endless hours socialising, engaging in activities, or just relaxing with a book. Staying true to our focus of improving the area both aesthetically and functionally, new chairs, scatter cushions and tables were brought in to create a warm, intimate, friendly atmosphere where the residents can engage with each other, or partake in activities. The area was also treated to some new art, further aiding in the homely environment. Daily music therapy is done in this area and the sounds of the piano can be heard throughout the facility again encouraging everyone to engage.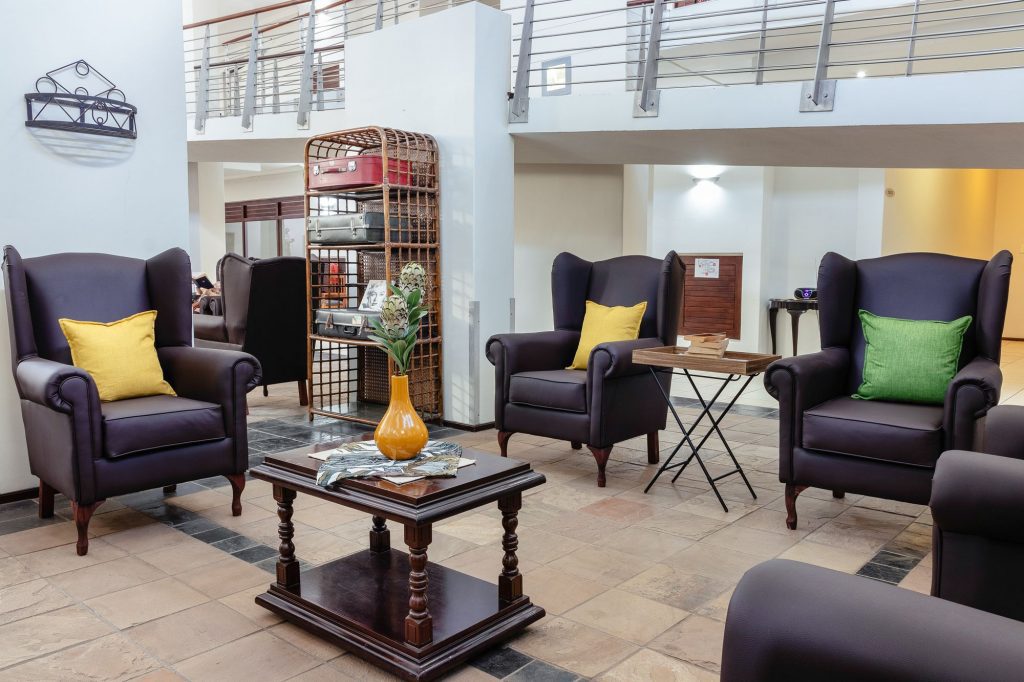 Meals are a priority for our residents, focusing on a healthy balanced diet as well as taste. The management team met with residents to discuss changes to the menu and hear their opinions. A new menu has been implemented at the House as well as the way in which meals are served, breakfasts are now buffet styled. Residents have a choice of what to eat and how it is prepared, staff now cook fresh eggs in the dining hall to order.
Further, the environment that the residents eat their meals in was addressed. Nazareth House Durban has two main dining areas which received a complete refurbishment. The areas got new tables and chairs with a full set of table settings, creating a lighter, more spacious look and feel. A buffet area with a serving island was created to improve the meal preparation experience for the elderly. Finally, the daily menu is displayed on the table a la carte style on a two-day cycle for residents to view and make changes to should they wish.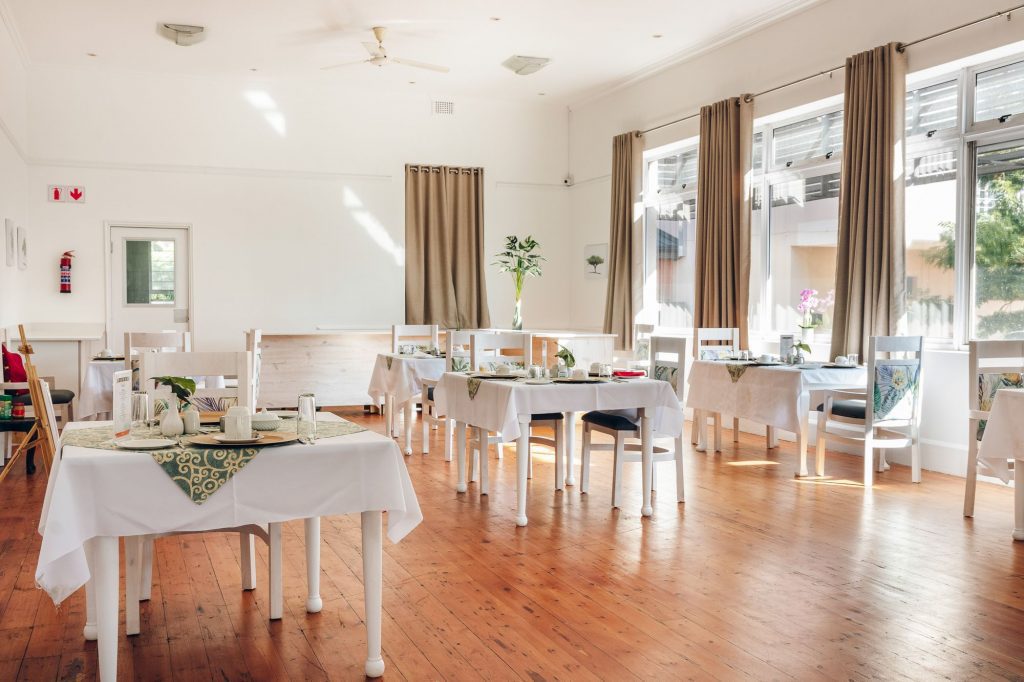 Spa Room and Hairdressers
The ultimate spoil! The spa room is an area where the residents can relax by soaking their feet in a foot spa, to the sounds of relaxing music and scented candles. The space can accommodate 5 residents at a time and is equipped with reclining chairs. In addition to this, there is also a reflexology room, run by one of our independent living residents, and a local beauty school is going to do massages and other treatments on a volunteer basis for our residents. The key is a partnership with the local universities and utilising their practical hours for our residents. We have successfully engaged with the University of KZN which has committed to ongoing relationships.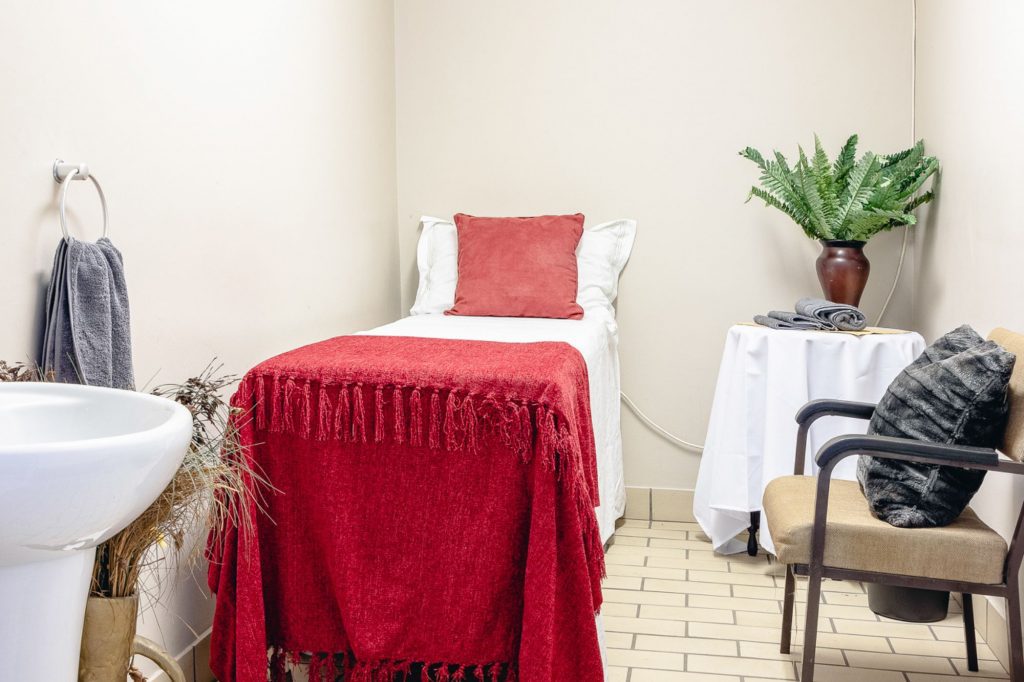 Lights, camera, action! The movie room is the biggest attraction for our residents. Taking the idea of a cinema and combining it with the specialised needs of our residents, it has been fitted with recliner chairs, soft blankets, and great sound. Residents are encouraged to make use of this space and enjoy some old classic movies or be more adventurous and request a blockbuster movie. Twice week movie nights are hosted and hot popcorn is served, with a dose of sugary treat!
Upper Atrium & Games Area
Our more social residents love this new space. It is an airy, lightroom where activity is encouraged. Packed with board and card games, puzzles, a chess set and magazines, residents can get caught up in socialising and games for hours. The seating is arranged to encourage social interaction while stimulating the mind and body with age-appropriate activities.
The TV rooms received an upgrade and now offer a pleasing sitting area for those who enjoy watching their TV shows. They have been equipped with Netflix and DSTV so residents can now enjoy their Down Town Abbey at their own pace.
Occupational Therapy, Arts & Craft Room
Arts and crafts allow seniors to get physically, mentally and socially involved in a meaningful activity. It gives them a sense of responsibility and helps them feel like they are contributing to something important. This helps them experience a renewed sense of purpose and belonging in life. The room was redesigned to address the above in mind. There is a table where the residents can play bingo or work on a puzzle together, there is a corner for the artists amongst the residents (equipped with an easel, canvas, paint and brushes), a knitting corner (with wool and needles) and an art corner with adult colouring books etc. We are looking forward to hosting some craft activity sessions in the future and witnessing how creative our residents still are.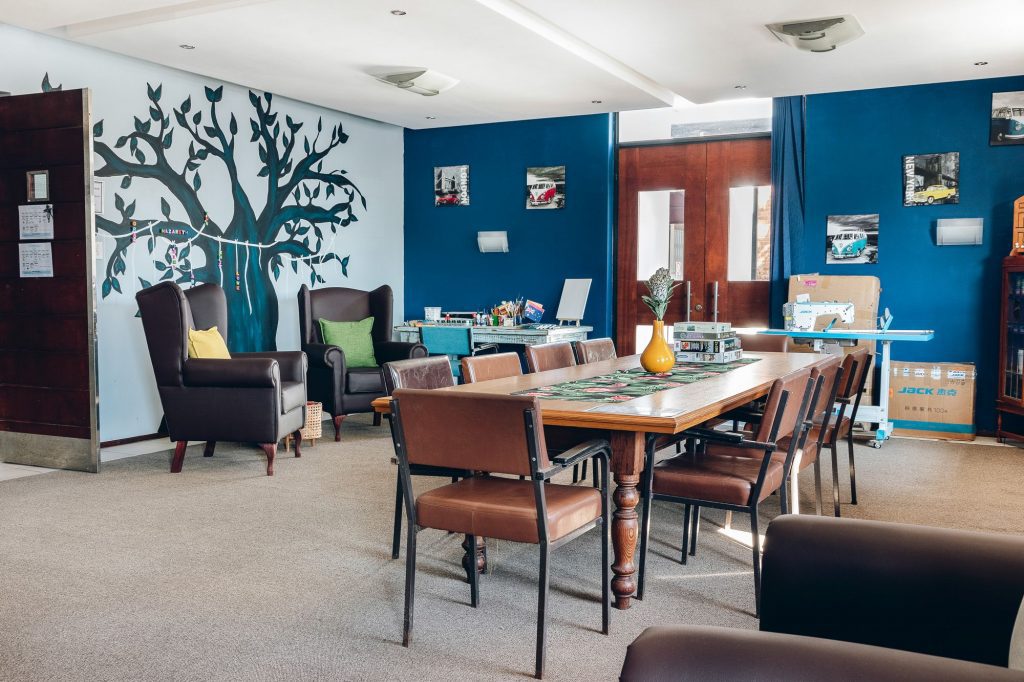 At Nazareth House, we encourage all our residents to take ownership of what is on offer, use the items available to their fullest and encourage each other to spend some time within the spaces created especially for them. It is never too late to be pampered, spoiled or relaxed! We strongly believe these new upgrades will benefit our resident's quality of life, and bring us closer to having homely environments where our residents keep their independence.
"To provide care for the people who once cared for us is one of life's greatest honours. The team who was responsible for giving the Durban House a new cloak to wear was honoured to do so!" – Henco Walker, Nazareth Care Africa CEO.