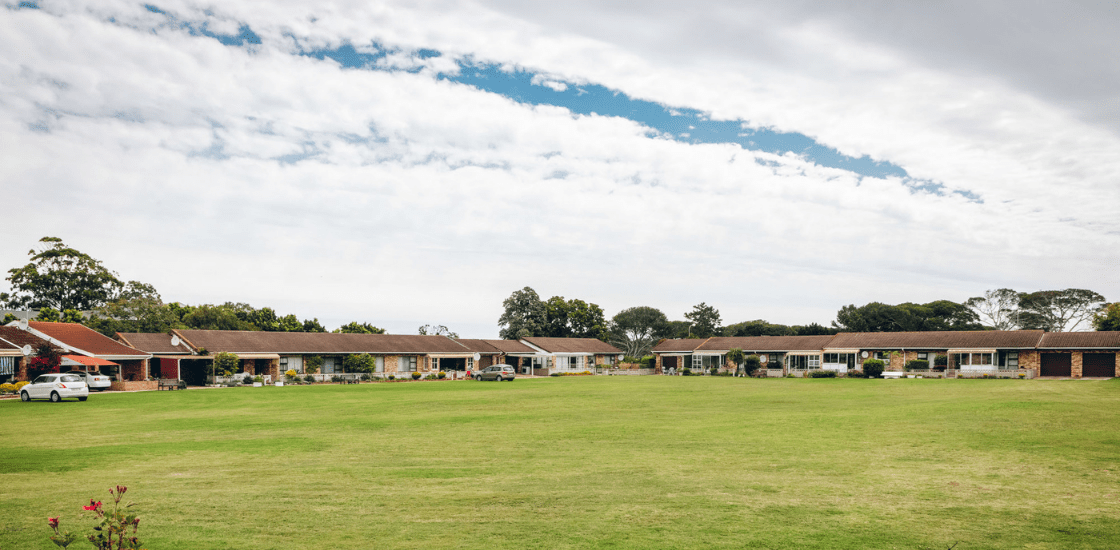 Nazareth House
Port Elizabeth
At the heart of the friendly city lies Port Elizabeth's best kept secret. Tucked away in the halls of this gracious historic building, dating back to 1892, nestles Nazareth House Port Elizabeth, set in spacious and peaceful gardens. 
Nazareth House Port Elizabeth is a stone's throw away from the residential suburbs, making it a great choice for the next step and an easy transition into your new home. The large property offers ample space for residents to wander within the safety of the facility.
Our large property boasts an array of accommodation and service choices, making us the perfect place to call home as you transition through your golden years. On the outskirts of the property are our independent living houses in a half moon shape. These sought-after homes are spacious and have an unobstructed view of the rolling lawn on their doorstep. Assisted living units offer all the necessities for an independent stay for individuals who still want their independence to move freely but with support on hand 24/7. Our frail care wing offers private and shared rooms, with specialised care for each resident whilst still maintaining quality of life.
Each of our care and accommodation options are housed in separate areas of the property, allowing us to prioritise the service and level of care needed at each of these units. Interactions between residents are encouraged, forming a community throughout the property with many flourishing friendships forming. Our residents can enjoy a vast choice of daily activities on offer, including the use of our communal areas. Our gardens are perfect for a leisurely stroll or finding a bench to read a book to the chirping sounds of birds.
Shops are within 5 minutes of the facility and both private and public hospitals are within close proximity to our House and can be reached quickly in the case of an emergency. Security is a priority with access-controlled entrance and security personnel on site 24/7.
At the core of Nazareth House Port Elizabeth and what really makes this property tick, is an enthusiastic and energetic team who continually interact with residents, making each individual a part of this vibrant home.
Retirement cottage with one or two bedrooms, lounge, kitchen & bathroom.
Single or shared rooms options with ensuite bathroom or basin & toilet.
Single or shared rooms options with ensuite bathroom or basin & toilet.
Tranquility and relaxation everyday.
Nazareth House Port Elizabeth has large lawns, established trees, and a welcoming atmosphere from the moment you enter the property. The independent cottages are separate from the facility which houses the assisted living and frail care rooms. Residents are most welcome to take time to relax and enjoy their peaceful space and walk through the property. Residents can feel secure within the premises which features gated access and security on site 24/7.
Nazareth House Port Elizabeth has various cottages and rooms on offer. All rooms are wheelchair friendly and spacious. The bathrooms are designed for use with residents who may have restricted mobility. Many of the shared rooms feature beautiful views of the Port Elizabeth surrounds and have private balconies allowing residents to enjoy the fresh air. Rooms sizes do vary and are allocated based on availability.
Cottages, each with their own delightful gardens, boarder on a large tranquil common green. With ample space for walks or quiet relaxation, this is country styled living at its best. Early morning sunrises, the red glow of beautiful evening sunsets and ample birdlife all to add to the charm of this little village.
Nazareth House Port Elizabeth boasts beautiful common areas for residents to enjoy. The house has a large dining room where residents can enjoy mealtimes and games together. This newly renovated dining room is where guests often gather to celebrate new special occasions or themed meals together. There is a TV room, multiple lounges where residents can relax and enjoy the afternoon sun socialising or reading a book. Outside residents can stroll through the large gardens and walkways stretching across the property, or make use of the communal facilities which include a chapel, charity shop and hair salon.
Needing more information.
At Nazareth Care, the Sisters and staff are dedicated to providing a safe and loving atmosphere where seniors are encouraged to maintain their independence… If you are looking for yourself or a family member then Nazareth Care is here to help you find the best option for your family.
We care and are committed to becoming your guide, trusted resource, and partner during this challenging time. We will help you navigate the sometimes complicated world of senior care and services to ensure your needs are met with confidence, care and respect.
For questions about our availability and coming to Nazareth Care, please contact our team. They will listen to your needs and identify the resources available to you and your loved one.
If you decide that Nazareth Care is the right choice for you, the team will guide you and your family through the admission process.
Nazareth House Port Elizabeth has a bustling charity shop on site. If you are looking for your next great bargain or want to donate your previously loved items give us a visit.