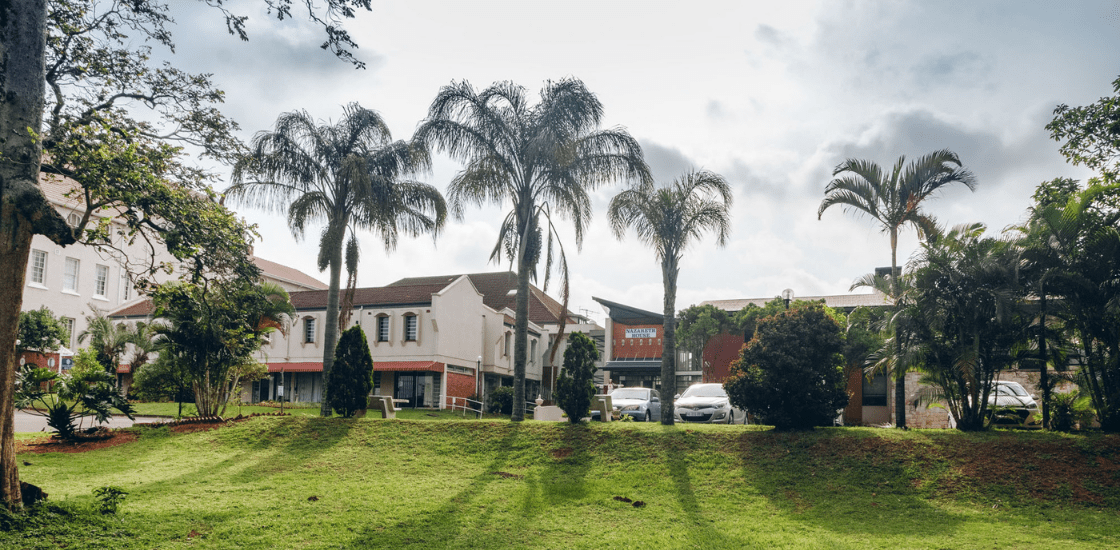 Nazareth House Durban is nestled in the exclusive residential suburb, Berea, amongst the eclectic mix of architectural styles that include large Victorian, Edwardian, art deco and modern homes. The large property is a tropical oasis with palm trees and rolling green lawns. Situated high on the ridge, one can see views of the harbour and city below.
Our large property boasts an array of accommodation and service choices, making us the perfect place to call home as you transition through your golden years. Independent living apartments are situated in a separate building. These units come with a small kitchen, bathroom, and open patio to enjoy the views. Assisted living flats are available for individuals who still want their independence to move freely but with support on hand 24/7. Inside the main facility we house our frail care residents, focusing on their individuals needs whilst still maintaining quality of life.
Each of our care and accommodation options are housed in separate areas of the property, allowing us to prioritise the service and level of care needed at each of these facilities. Interactions between residents are encouraged, forming a community throughout the home with many flourishing friendships forming. Our residents can enjoy a vast choice of daily activities on offer, including the use of our communal areas. Our gardens are perfect for a leisurely stroll or finding a bench to read a book to the chirping sounds of birds.
Centrally located, there are many shopping malls in close proximity. Life hospital is situated adjacent to our House and can be reached quickly in the case of an emergency.
Nazareth House Durban is a buzz of activity throughout the week with many activities on the go for residents to partake in. Our staff are fully committed to the needs of our residents and are always on hand.
Apartment with ensuite bathroom or single room with ensuite bathroom.
Single or shared room with ensuite bathroom.
Single or shared room with ensuite bathroom.
Tranquility and relaxation everyday.
Nazareth House Durban is populated with a variety of trees including large palm and other are old Victorian oak trees. These are a huge attraction for various bird life and the monkeys like to visit too. The grounds offer many quiet spots to relax in the shade or stroll through the property to stretch your legs.
Our outdoor gazebo, and magnificent pool area are a great attraction to cool off in the Durban heat and lounge about reading your book.
Nazareth House Durban has various rooms and apartments on offer. Being a new building the units are modern and bright. All rooms are wheelchair friendly and spacious. Rooms come semifurnished and unfurnished so residents may decorate their rooms as they please with familiar furniture. All rooms have built in cupboard space. Rooms sizes do vary and are allocated based on availability. Our rooms come with the necessary medical equipment and specialised beds, if need be. All bathrooms are designed for use with residents who may have restricted mobility.

Nazareth House Durban has a few gorgeous experiential components ranging from the in-house hairdressing facility, residents who enjoy playing the piano and staff members who engage in sharing Zumba classes with their staff and residents.
Nazareth House Durban has multiple dining rooms for the different care options. When moving through the light and bright facility, there are many areas to relax and enjoy the lounges and TV rooms on offer. We have a well-stocked library for residents to enjoy and a full hair salon.
The communal recreational area hosts daily activities and has seen many musicians perform for the residents. The weekly zumba classes are a favourite for all.
Needing more information.
At Nazareth Care, the Sisters and staff are dedicated to providing a safe and loving atmosphere where seniors are encouraged to maintain their independence… If you are looking for yourself or a family member then Nazareth Care is here to help you find the best option for your family.
We care and are committed to becoming your guide, trusted resource, and partner during this challenging time. We will help you navigate the sometimes complicated world of senior care and services to ensure your needs are met with confidence, care and respect.
For questions about our availability and coming to Nazareth Care, please contact our team. They will listen to your needs and identify the resources available to you and your loved one.
If you decide that Nazareth Care is the right choice for you, the team will guide you and your family through the admission process.
Please feel free to contact us with any queries you may have. Our friendly team of Sister Superiors, Facility Managers, and Nursing Services Managers are always available to assist.
Address
82 Mazisi Kunene Rd, Berea, Durban, 4001
Phone
We provide a peaceful, homely environment within safe, secure premises with the primary focus on person-centered care. Nurses are on duty 24 hours a day and are all registered with the South African Nursing Council (SANC) and the Health Professions Council of South Africa (HPCSA). Care workers receive additional training in person-centered care and Dementia Care. Weekly activities are scheduled for all residents. 

We value the personhood of our residents. By providing one-on-one person-centred care, we help them maintain their sense of self-respect and personal identity.

To truly understand what another person has experienced, we must first seek to listen. Our care workers take heed of the challenges faced by our residents and support them accordingly.

Every person deserves respect and kindness. We acknowledge the value of our residents' lives by treating them courteously and respecting their personal preferences and privacy.

Good quality of life is essential to happiness. That's why we provide a warm, welcoming environment with caring staff and an emphasis on communal living and companionship.

Each resident is an individual with their own unique needs and preferences. Our care workers recognise this by offering them support and accommodation  with due consideration.