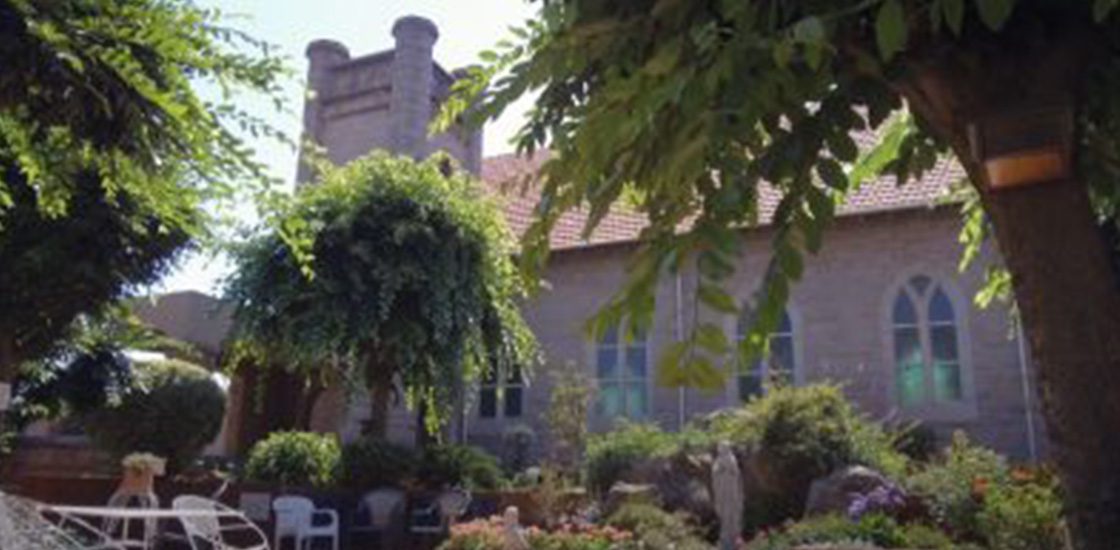 Nazareth House Johannesburg

Nazareth House Johannesburg was established in 1896 with the objective to serve the homeless human casualties of the sprawling mining camp that was Johannesburg. Nazareth House Johannesburg aims to improve the lives of men, women and children who are not able to care for themselves and those from the poorest communities. 
The Sisters of Nazareth radiate the charisma and ethos of their foundress Victoire Larmenier and have opened their doors to the vulnerable and poor in caring for the sick, destitute and under privileged children and elderly with many other problems prevalent in a growing metropolis of Johannesburg.
Often referred to as "the needle in the haystack", "an oasis in the desert" or "a refuge in the midst of chaos and confusion". That is exactly what Nazareth House Johannesburg is. Within the walls of this well-established campus, set in beautiful landscaped gardens, lies a place of safety for the weary and afflicted.
Nazareth House is more than "home" to our residents, it is a place of peace and enjoyment, safety and hope, security, dignity, comfort and peace.
For a frail elderly person without family or finances, life can be a terrifying ordeal. Add other various debilitating physical and mental diseases that affect the elderly, such as Alzheimer's and Parkinson's, and the options becomes even more limited. With Government subsidised homes for the aged stretched to the limit, care of these vulnerable elderly people falls onto the shoulders of organisations such as ours.
At least 60% of our elderly residents are dependent on various means of assistance, while residents in our frail care section are completely dependent on their caregivers. Although some of the residents contribute towards their care through their pensions, this does not entirely cover the cost of the services we provide. We provide for old men and women who can no longer care for themselves independently, or be maintained in their communities and vulnerable children. The cost of medication, clothing, feeding and transport to and from hospitals is enormous. We feel that caring for the elderly is a privilege as each one has made a valuable contribution to society in his or her own way.
Each of the Nazareth Houses have their own unique atmosphere and style, with a varied range of activities and facilities to make our residents stay as safe, secure and independent as possible.
Independent Living 

Assisted Living

Frail Care 

Palliative Care

Respite Care 

Day Care 
• Option of private or shared rooms.
• Selected rooms have ensuite bathrooms.
• 24 Hour care by our dedicated and qualified nursing team.
• Administration of medication.
• 3 Nutritious meals per day including morning and afternoon tea.
• All meals prepared by a catering company.
• Special dietary requirements catered for.
• Individualized care plan for each resident.
• Daily activities program planned and conducted by our occupational therapist.
• Daily laundry and cleaning services.
• Beautiful well-kept gardens for residents to explore and walk in.
• Access to all common areas; sitting room, lounge, TV room, library etc.
• Access to recreational facilities; pool & tennis courts. *Not available at all houses.
• Onsite Church/Chapel providing mass (services) to all residents.
• Sisters of Nazareth continually give spiritual support and care.
• 24 Hour security & CCTV monitoring.
• Gated security community with strict access control and electric fencing.
• Wheelchair accessibility.
• External building maintenance, repairs, and general tidiness managed by Nazareth Care.
• Occupational therapy services (group and individual). Group therapy consists of: chair exercises, chair volleyball, dance and movement.
• Well-equipped hairdresser and salon available.
• Ongoing activities for socializing and entertainment.
• We encourage our residents to live their lives to the fullest by engaging in meaningful leisure activities offered at our facility, be it indoors or in our beautiful gardens.
• Residents can stay connected to their loved ones via digital means, Skype and email.
• There are no visitation hours as we encourage family, friends, and volunteers to visit at any time of the day. *Due to Covid-19 we have strict visitation policies in place.
• Our relaxing dining rooms serve breakfast at 8am, lunch at 12pm, and dinner at 5pm. Teatime is at 10am and 2pm.
• Occupational therapy groups occur twice a day at 10:30 am and 2 pm from Monday – Friday.
• Chapel & Mass services are available daily.
• Daily house activities include bingo, group exercises, quizes and jigsaw puzzles.
• Our Houses have easy access to shopping centres, pharmacies, and banks.
• All Houses are in close proximity to private and public hospitals.
• Doctors and specialists are in close proximity.
• Physiotherapists and podiatrists are on call.
• Cozy lounge areas with pleasant and comfortable television/sitting rooms are available for residents and their visitors.
• All Houses regularly offer movie themed movie nights for the residents to enjoy.
• Shopping trips for residents who can shop independently.
• Scheduled outings to interesting and scenic venues are regularly scheduled for the residents.
• Regular schools visits encourage the youth to interact with the elderly.
• Individual one on one Social worker services.
• Charity shop.
• Examples of some of our activities and therapies:
o Relaxation therapy: Tai Chi.
o Social skills ( Story-telling, poetry, Good old days, discussion groups, Wisdom Wednesdays).
o Baking.
o Gardening and walking programme.
o Cognitive ability (Bingo, Quiz days, Jigsaw puzzles/word searches/board games/Scrabble/ Rummikub/Bridge).
o Creative skills.
o Mosaic classes.
o Bible studies
o Movie Nights.
• Hairdresser service available.
• Health and exercise programs.
• Social, cultural and educational activities.
• Various live entertainment on a regular basis
At Nazareth Care, the focus is on Quality of Life and this remains the central goal of the entire organization.
Quality of Life may be defined as encompassing personal culture along with physical, mental, and spiritual health.
The implementation of Occupational Therapy facilitates a holistic intervention, which is aimed at providing a unique, person-centered treatment approach to every resident, based on his/her unique needs, abilities and preferences. 
At Nazareth Care the residents are provided with the most comfortable, safe, stimulating, welcoming, and homely environment for them to spend their golden years, knowing they are valued, loved and understood. 
Our approach to care is unique, creating personalised methods of looking after the needs of each individual, allowing us to respect each individual and treat them with the dignity that is required.
At Nazareth Care, the Sisters and staff are dedicated to providing a safe and loving atmosphere where seniors are encouraged to maintain their independence… If you are looking for yourself or a family member then Nazareth Care is here to help you find the best option for your family.
We care and are committed to becoming your guide, trusted resource, and partner during this challenging time. We will help you navigate the sometimes complicated world of senior care and services to ensure your needs are met with confidence, care and respect.
For questions about our availability and coming to Nazareth Care, please contact our team. They will listen to your needs and identify the resources available to you and your loved one.
If you decide that Nazareth Care is the right choice for you, the team will guide you and your family through the admission process.
Address
Webb St, Yeoville, Johannesburg, 2198
Phone
We provide a peaceful, homely environment within safe, secure premises with the primary focus on person-centered care. Nurses are on duty 24 hours a day and are all registered with the South African Nursing Council (SANC) and the Health Professions Council of South Africa (HPCSA). Care workers receive additional training in person-centered care and Dementia Care. Weekly activities are scheduled for all residents. 

We value the personhood of our residents. By providing one-on-one person-centred care, we help them maintain their sense of self-respect and personal identity.

To truly understand what another person has experienced, we must first seek to listen. Our care workers take heed of the challenges faced by our residents and support them accordingly.

Every person deserves respect and kindness. We acknowledge the value of our residents' lives by treating them courteously and respecting their personal preferences and privacy.

Good quality of life is essential to happiness. That's why we provide a warm, welcoming environment with caring staff and an emphasis on communal living and companionship.

Each resident is an individual with their own unique needs and preferences. Our care workers recognise this by offering them support and accommodation  with due consideration.