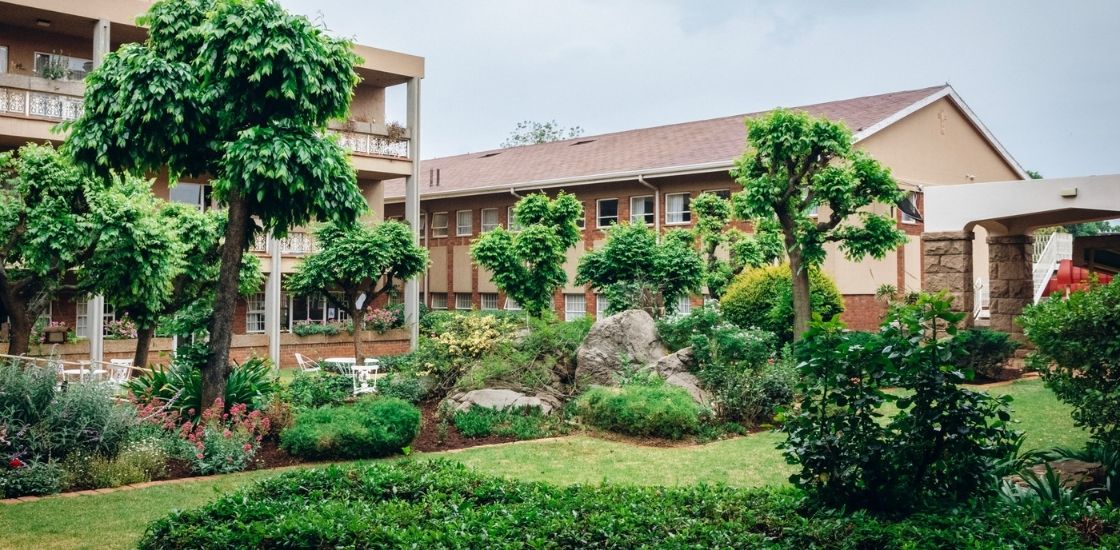 Nazareth House Johannesburg
Nazareth House Johannesburg is set in beautifully landscaped gardens, sharing the property with a stunning historical Chapel. Filled with tranquillity and peace, this property is a historical landmark that has stood the test of time in the heart of Yeoville. Boasting an array of accommodation and service options, Nazareth House Johannesburg is the perfect place to call home as you transition through your golden years.
Each of our care and accommodation options are housed in separate wing of the home, allowing us to prioritise the service and level of care needed. Interactions between residents are encouraged, forming a warming and homely community throughout the home with many flourishing friendships forming.
The independent wing of the facility offers spacious one-bedroom apartments with their own bathroom, kitchen, and lounge, allowing residents to have complete independence within a safe environment. The assisted living one and two-bedroom apartments offer residents and their families complete peace of mind with support on hand 24/7. The newly renovated frail care unit is outfitted with modern finishes and electronic beds, creating the perfect balance between comfort and functionality.
Our residents enjoy a vast choice of daily activities on offer, including the use of our communal areas. The gardens are perfect for a leisurely stroll or finding a bench to read a book to the chirping sounds of birds. Security is of top priority with access-controlled entry, CCTV and security personnel on-site 24/7. Hospitals are close by in case of emergency, and weekly visits to the shops are arranged by the House.
Nazareth House is more than "home" to our residents, it is a place of peace and enjoyment, safety and comfort, security and dignity. We welcome you to visit our facility and feel the warm loving embrace that each resident in our care experiences.
Apartment with lounge, kitchen, bathroom or apartment with kitchenette & ensuite bathroom. Private or Shared options.
Single room with ensuite bathroom or double room with ensuite bathroom and mini kitchenette. Private or Shared options.
Single room with shared bathroom.                                                                                                                   
Tranquility and relaxation everyday.
Nazareth House Johannesburg dates back 1896. The property is large and spacious with a beautiful early 1900's Chapel on site. A well-established garden creates a sense of tranquillity within property, and is the perfect place for a stroll or to sit and relax in the afternoon sun. There is a full-sized tennis court as well as a swimming pool, which makes for a wonderful afternoon dip to cool off the hot,dry Gauteng weather.
Residents are most welcome to take time to relax and enjoy this peaceful and homely community. The optimised security is of utmost importance and is in motion 24/7. The facility is also closed offwith an access controlled entrance, CCTV, electric fencing, and 24-hour security services
Nazareth House Johannesburg has various rooms on offer. All rooms are wheelchair friendly and spacious. Rooms come semi-furnished and unfurnished so residents may decorate their rooms as they please with familiar furniture. All rooms have built in cupboard space. Rooms sizes do vary and are allocated based on availability. The colour-coded rooms have a special appeal to those who prefer a bit of character. Our rooms come with the necessary medical equipment and specialised beds, if need be. All bathrooms are designed for use with residents who may have restricted mobility.
The frail care unit recently received a full renovation. With modern finishes, the light and bright frail care facility welcomes new residents. Each room has large windows for natural light and is fitted with cupboard space for residents' personal belongings, a flat-screen TV for entertainment, a recliner chair for comfort, and an electronic bed for best medical care. The shared frail care lounge has also received a makeover, encouraging residents to make the most of this space and form friendships with one another.
Nazareth House Johannesburg boasts beautiful common areas for residents to enjoy. There is a communal kitchen, multiple dining rooms where residents can enjoy meal times, a games room where many a friendship can be formed, TV room, and multiple lounges should residents want to watch a movie together or read a book. Nazareth House Johannesburg also has two well stocked libraries for residents to enjoy. Outside residents can stroll through the large gardens and walk ways stretching across the property, or make use of the communal facilities which include a chapel, tennis courts and a pool.
Needing more information.
At Nazareth Care, the Sisters and staff are dedicated to providing a safe and loving atmosphere where seniors are encouraged to maintain their independence… If you are looking for yourself or a family member then Nazareth Care is here to help you find the best option for your family.
We care and are committed to becoming your guide, trusted resource, and partner during this challenging time. We will help you navigate the sometimes complicated world of senior care and services to ensure your needs are met with confidence, care and respect.
For questions about our availability and coming to Nazareth Care, please contact our team. They will listen to your needs and identify the resources available to you and your loved one.
If you decide that Nazareth Care is the right choice for you, the team will guide you and your family through the admission process.
Please feel free to contact us with any queries you may have. Our friendly team of Sister Superiors, Facility Managers, and Nursing Services Managers are always available to assist.
Address
1 Webb St, Yeoville, Johannesburg, 2198
Phone
We provide a peaceful, homely environment within safe, secure premises with the primary focus on person-centered care. Nurses are on duty 24 hours a day and are all registered with the South African Nursing Council (SANC) and the Health Professions Council of South Africa (HPCSA). Care workers receive additional training in person-centered care and Dementia Care. Weekly activities are scheduled for all residents. 

We value the personhood of our residents. By providing one-on-one person-centred care, we help them maintain their sense of self-respect and personal identity.

To truly understand what another person has experienced, we must first seek to listen. Our care workers take heed of the challenges faced by our residents and support them accordingly.

Every person deserves respect and kindness. We acknowledge the value of our residents' lives by treating them courteously and respecting their personal preferences and privacy.

Good quality of life is essential to happiness. That's why we provide a warm, welcoming environment with caring staff and an emphasis on communal living and companionship.

Each resident is an individual with their own unique needs and preferences. Our care workers recognise this by offering them support and accommodation  with due consideration.